Coming to a close
It's nearly the end of the semester. Tomorrow I've got my last final, and I'll be going home. But, like last year, I have to wonder what to actually call home. I live here for the majority of the year, and have made so many friends, but that all changes in a matter of a few hours (two to be exact, if there's no traffic on the way home), then I'll be home, with my family, and a different group of friends. It's really an unusual situation.
I've had an awesome time this year. I have all of the wonderful friends that I've made this year to thank for that. We continued a lot of our traditions. Midnight Steak 'n Shake trips, midnight Wal-Mart runs as well, last pizza of the semester, watching Leno's monologue and nighttime frisbee. We also created some new traditions such as fixing the loft, also at midnight, on a weekly basis, going to football games (with a different perspective this year), and going to Krispy Kreme. Racquetball was by far the best new tradition that we started this year. I was just introduced to it a few weeks ago, my future roommate got me started. Since then, we've gotten three more people involved with it.
We had some memorable moments as well. Making our room the only one in the building with a ceiling fan was great (mainly because we only used duck tape and a plain old boring box fan). Going to a Sox game, seeing Purdue beat up on IU on their home turf, going to my first party, taking a day trip to Chicago for the auto show and for some pizza, and going to the state Marching Band final with a host of car-related issues were just some of the memories that I'll be taking away from this year. By far, the word of the year is "electronical." And we have to hope that my friend's foot will get better before we start playing racquetball again next fall.
I'll be living on the same floor again next year, as will a lot of the people who are here right now. Our RA won't be returning though, so we all got together and took a group picture of everyone on the floor. We figured that it was the least that we could, as he has put up with us for the last two years, and has done a great job at it.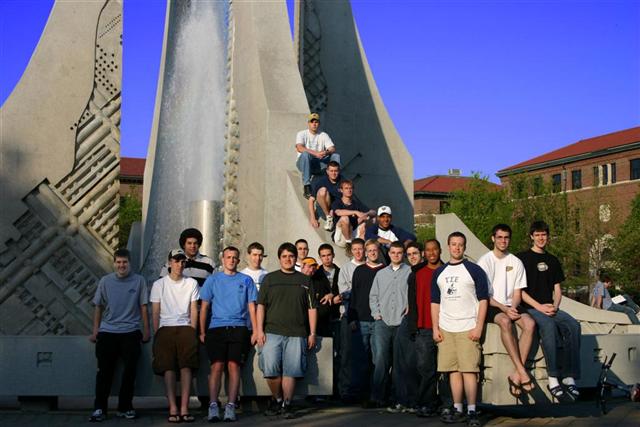 This summer I'll be pushing carts and bagging groceries again. I can't complain about that too much though, I do get paid. We're planning on going to Cedar Point again, and hopefully we'll make it there this time. There are also some plans for some of my friends to come and visit me over the summer. That's always been a lot of fun. That's about all that's going on this summer so far, but I'm sure that we'll find plenty of other things to do.
Like last year, I'll be moving the majority of my stuff into my room a week early. I get to move in early for free this year, since I'm on the hall's executive board as the social director. I'll be back for good after that. My schedule includes three ECET courses and one OLS one. It should be a lot of fun.
This year has been incredible. I'd like to thank all of you who made it so great, and I'd like to wish every one a great summer.