Homework's done, now what
That's right my homework is done, for the entire week. Unless my English teacher assigns something, I won't have much to do at all this week.
I finished the latest round of EET tests earlier today. I think they went quite well. However, the EET 107 test took a lot longer than I expected. That's mainly because I had to show my work in a clear, organized fashion. Normally we do the homework on the internet so all we have to do is type in a number. Oh well, all that counts is that it went well.
The football game was a lot of fun. The close games are the best, since the crowd stays in the game. The halftime show that we put on wasn't all that great however. One of the tunes that we did was "Singing in the Rain," so we had a set that was a lamppost and a stick figure that was dancing. Well, one of the feet of the stick figure ended up off by 5 yards. The leg adjusted to meet it, but when we went to make the figure dance, half of the leg went to the adjusted spot and the other half went to the correct spot. The leg broke and ended up kicking the lamppost. I happened to be the person right at the break.
For this week there's one think that I'm looking forward to. I should be able to finish my power supply for EET 196 this week. Then I don't have to go to that lab anymore. Other than that there's not a lot going on as far as academics is concerned.
Academics aside, I'm looking forward to the trumpet road trip this Saturday. We're going to the Northwestern game to watch Purdue play. It should be a lot of fun.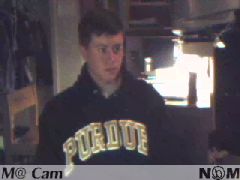 Finally, today I got a new Purdue sweatshirt. I also found a place in the Union that has hot chocolate. I had to waste half an hour before the store opened, so I did my English homework while drinking some hot chocolate.