It's getting closer
Only 11 days until I go home for the semester break. Yahoo! This week seems to be shaping up to be rather boring. All of my classes are winding down, so there's not much homework, and it's "dead week" which means that you can't have any tests or quizzes. Next week will probably be the same way, if not worse.
Just so you get an idea of how close Christmas is, here's a picture of the Christmas tree that I set up in my room…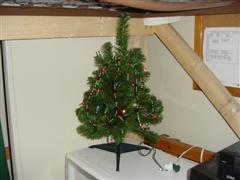 I've also picked out some of my Christmas gifts. All that's really left to do is put up some decorations at home, that should be it.