That took a while
I just finished trying on my band uniform. That's not an easy task. The pants have suspenders on them, which isn't that bad, except that they had to be adjusted the first time. The jacket is the tricky part. It has at least 5 buttons in various places, and then there's a zipper that runs from the left shoulder down to the bottom of the jacket. To close that zipper you have to pull it down, and getting it aligned when it's on your shoulder isn't easy.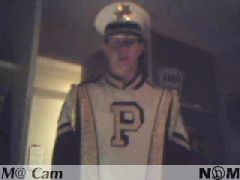 I started my new English course today. There isn't as much make-up work as I expected, which is good. From reading the syllabus, the course is mainly writing, which is good for me.
I also finished catching up on all of the stuff that I missed since I was sick on Thursday. I'm glad that I missed EET 109, the digital electronics course, since I already know a lot of the material in the first few chapters.