The Summer
I wanted to get this done at about 1 am this morning, but I wasn't awake enough to put together a coherent sentence. Don't ask me to describe my summer on one word, that would be hard.
To begin, I got a job bagging groceries and pushing carts at the local supermarket. It was nice to get a paycheck, but there were some days that were unbearable. For example, I had to work on the Fourth of July (its a 24 hour store), everyone in the town must have been there that day. To make things worse, it was one of the hottest days of the summer, and I was outside pushing carts, all of them (or so it seemed). I know that I'll be able to work there again next summer, which is good because out of ten or so jobs that I applied for this was the only one that even called me back. My first priority for next summer, though, is to find an internship.
We also took a few trips this summer. We went to Lake Lawn Lodge (yeah, I know) twice, once at the beginning of summer, and once just a few days before I came back here. That's always a lot of fun, and I golfed for the first time in over a year. It's a good thing that it was only a par three course with at least one hole that was so short, I was able to throw a ball past the green. We also finally got to redeem our free game coupons at Paradise Golf Park. That's a mini-golf course in the area with one hole that requires a nine iron, it must be at least 20 yds. When we were up there we also saw Finding Nemo, that was my second time seeing it, but it's a good movie. If you saw it and live in Tark with me last year, you'll no doubt be reminded of my roommate for last year with the sea turtles.
Everyone is rather disappointed that he won't be coming back this semester, including me. He was a great guy, and I wish I could have roomed with him for the entire year, instead of the fiasco that I had to go through.
We also took a trip up to Minnesota, yeah, it's about as exciting as it sounds, even if you don't include the 5-6 hour drive each way. The main point of the trip was to go the Treasure Island Resort and Casino (it was overselling itself as a resort, hotel and casino would be much more accurate) in Red Wing. Fortunately, it was close enough to the twin cities that we were able to go the Mall of America. That was rather neat to see, however I was disappointed to find out that they didn't have an looping roller coaster, I'm 100% sure that I've seen it on the Discovery Channel every time the have a special on about roller coasters. By far the best part of the trip was getting ice cream at the Penguin Zesto. We found the place by asking at the front desk of our hotel in Winona, and we were so impressed with the place, both the ice cream and how it looked, that we had to go back there the next morning to get a picture of the place. It's on a street corner and looks like small barn, painted white with red. The sign at the top of the building reads: 'Here it is' The Penguin Zesto' with two rather funny looking penguins on either side of the sign.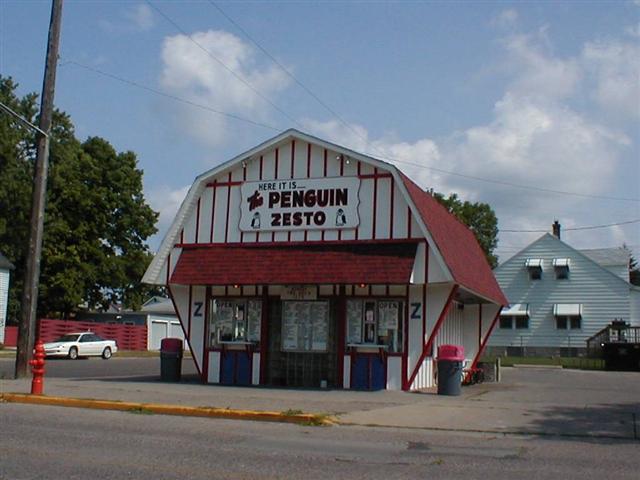 Going home for the summer is also nice because I got to visit with a lot of my friends from high school. In addition to the usual going out for dinner, or ice cream, mini-golf, or bowling we also did some fun things like going to a White Sox game (actually one of several I went to during the summer), going to the Museum of Science and Industry (I know it sounds boring, but the place is awesome, I've been there at least 4 times in the past year) and having a LAN party, which I was able to go to for about an hour because my work schedule made it almost impossible to do anything this summer. Not only did I get to visit some friends from high school, but some of the friends that I had made at Purdue came to visit me over the summer as well. I got to introduce some of my friends to Chicago Deep Dish Pizza (the original, accept no substitute) and took another one to a Sox game, which worked out really well, since he is a huge Sox fan.
Coming back here is a lot easier the second time. For one, a lot of my stuff was just sitting in corner packed just as it was when I left waiting to go back. So it was simply a matter of tossing that in the trunk of the car before going back. I'm not in marching band this year, I'm glad that I did it for one year, but it was just taking up too much of my time. Even though I'm not in marching band, I was able to get my room set up a week early, since my roommate is a member of our residence hall's executive board. That was really helpful, we were able to get all of the big stuff set up and out of the way, such as the loft, TV, refrigerator and microwave, as well as some of the smaller stuff that we brought down here to get it out of the way. The guy I'm rooming with lived across the hall from me last year, so I know him and know that we should get along just fine. About half of the guys on our floor returned this year we all just have different roommates. It's really nice, though, that we already know a lot of people here.
This semester should be an interesting one. I'm taking two more courses for my major, and I'll be a lab assistant for a course that I took last year. I'm really looking forward to that. I'm also taking COM 114, which is a speaking and presentation course. Then, I'm taking another course for my minor, which will hopefully be about common sense just like the last one. Finally, I have my car here this year, so I'll be able to go home for the occasional weekend. It wasn't really a problem for the fall semester last year, since there are two breaks and my parents were down here almost every other weekend for football games, however it will be nice for the spring semester where I had nine weeks straight through without seeing anyone from home. There comes a point where talking on the phone and through IM just doesn't cut it anymore.
Just like last year, I'll keep you updated on what's going on, so keep checking back.